The Monster Energy NASCAR Cup Series makes a stop at Chicagoland Speedway for Sunday's Tales of the Turtles 400. The race marks the beginning of the 10-race playoff, and if you are looking to make some money playing NASCAR DFS at DraftKings, I'm here to help with my top cash and GPP plays.

No matter what type of lineup you are building this weekend, you need to put plenty of emphasis on the dominator categories. At 267 laps, this weekend's race isn't the longest by any means. However, races at 1.5-mile tracks like Chicagoland tend to be dominated by one or two drivers, and there is a good chance that one drivers lead more than 100 laps Sunday.

Looking at the other races at mile-and-a-half tracks this season, you can narrow your search for the top dominator to the Top 10 qualifiers. In fact, six of the seven drivers who had led more than 100 laps in a race at a 1.5-mile oval this year have started third or better, and all seven have started eighth or better.

It just so happens that the two most dominant DFS drivers at the 1.5-mile tracks, Martin Truex Jr. and Kyle Busch, happened to qualify in Top 3 this weekend. When building your cash lineups, most of them should start with this tandem.

Even in some GPP lineups, pairing Truex and Busch makes a lot of sense. Feel free to fade both in a lineup for a big tournament, but I think the most successful lineups this weekend will include at least one of the two.

On a side note, I did doublecheck the DraftKings rules in light of Brad Keselowski's recent comments. It doesn't look like incessant whining and begging for a handout from NASCAR are included in the scoring, so Keselowski's weekend-long cry-fest won't boost his DFS value.

Joking aside, make sure to get your DraftKings lineups set before the start of the Tales of the Turtles 400, and make sure to check out my top plays and lineup combinations before locking in your rosters for Sunday's race.
Top Cash Game Plays
Martin Truex Jr. ($10,700)
You want safe exposure to the dominator categories in cash lineups, and you won't find a safer option than Truex. He is the defending winner of this weekend's race, and he ranks first in both dominator categories at the 1.5-mile tracks this year. Truex has actually led 100-plus laps in four of the six races at mile-and-a-half tracks, and after qualifying third with a car that was fast in race trim, I fully expect him to add to his total in both dominator categories.
Kyle Busch ($10,600)
Busch was untouchable in qualifying Friday, and the speed carried over the race trim Saturday. He has led 20-plus laps in each of the last four races at Chicagoland, and he has led at least 59 laps in the last three races at 1.5-mile tracks this season. Busch could driver away from the field Sunday, and at the very least, I expect him to lead a good chunk of laps and score plenty of dominator points.
Jamie McMurray ($8,500)
It was a rare miss in qualifying for McMurray, but his 19th-place starting spot puts him in perfect position to exploit the place differential category. After all, he has finished in the Top 10 in five of the six races at mile-and-a-half tracks this year, and he finished 11th at Chicagoland last season.
Erik Jones ($8,400)
A spin in qualifying has him starting 24th, and Jones should be heavily owned in all cash games. He is running as well as any driver in the series, and he enters Sunday's race with six straight Top 10s and four straight finishes of sixth or better. Jones should be one of the top scorers in the place differential category and one of the top scorers at DraftKings overall.
Ryan Newman ($7,500)
Newman has momentum on his side as he enters Chicagoland with four straight finishes of seventh or better. He also appeared to have a strong car during practice Saturday. Starting 16th, I like Newman to challenge for a Top 10 and finish with 30-plus fantasy points.
Trevor Bayne ($7,100)
I don't think Bayne has a great car this weekend, but I do think he will move up from his 26th-place starting spot. He has finished 16th or better in five of the six races at mile-and-a-half ovals, and because of his potential in the place differential category, he only needs a Top 20 finish to be a useful cash game play.
Michael McDowell ($5,800)
If you are looking for a safe source of significant cap relief this weekend, McDowell is your man. He starts 30th, but he has a 20.8 average finish and five finishes of 23rd or better in the six races at the 1.5-mile tracks this year. He also has six Top 20s in the seven races leading up to Chicagoland. McDowell should be able to provide around 25 fantasy points for a great price.
Top GPP Plays
Kevin Harvick ($10,100)
Harvick hasn't had a truly dominant performance since Atlanta in the opening weeks of the season, but he showed serious speed in practice Saturday, especially on long runs. He qualified fourth, so he is in good position to exploit the dominator categories if his car is as good as it seems. If you are punting Martin Truex Jr. or Kyle Busch, Harvick is one of my favorite alternatives.
Chase Elliott ($9,900)
He showed an immediate feel for Chicagoland, leading 75 laps and finishing third in his track debut last year. He qualified eighth for Sunday's race, and more importantly, he showed some of the best all-around speed in practice Saturday. I love Elliott as a sleeper source of dominator points.
Jimmie Johnson ($9,100)
Johnson hasn't been running all that well, and he doesn't seem to have much speed this weekend. However, this is the seven-time champ, and he led the most laps at Chicagoland last year and has led the most laps here overall. I'll have him in at least one GPP lineup in case the No. 48 team comes alive in the playoffs once again.
Ryan Blaney ($8,700)
He finished fourth in his Chicagoland debut last year, and Blaney looks to have a Top 5-caliber car again this weekend after practice. He has also been a great DFS sleeper at the 1.5-mile tracks, ranking fourth in laps led in the six races. Blaney has a lot of upside for a mid-priced play.
Kurt Busch ($8,100)
Busch has endured a rollercoaster season, but he has hit his stride heading into the playoffs, ripping off three straight Top 5s. After qualifying 17th, he could post a big score through place differential if he continues his recent run of success. At this price, he is well worth the gamble in some GPP lineups.
Kasey Kahne ($7,700)
He has been tough to predict and even tougher to trust this season, but Kahne has upside that can't be ignored after qualifying 25th. In the six races at 1.5-mile tracks this year, he has three Top 15s and three finishes of 35th or worse. You are basically flipping a coin with Kahne, but it's a coin flip that could pay off in a big way.
A.J. Allmendinger ($6,500)
Consistency is not Allmendinger's strong suit, especially at the intermediate ovals, but the price tag and starting spot are appealing. He qualified way back in 29th, so he doesn't need much more than a mid-pack finish to post a decent point total. If you need some cap relief, he could be worth a flier.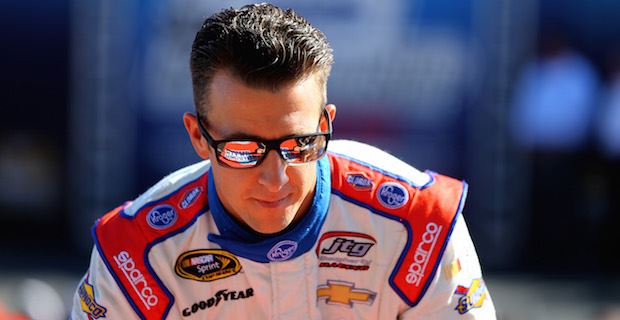 Drivers to Fade
Kyle Larson ($10,400)
It's hard to knock a guy who has four second-place finishes in six races at 1.5-mile tracks this year, but at this price, you need more than just a strong finish. Larson starts sixth, so the upside through place differential isn't there. Meanwhile, he has led just seven total laps at the mile-and-a-half ovals, so I'm not sure the dominator points will be there either. Larson's practice times were good, not great, so I'd rather spend my money elsewhere.
Chris Buescher ($6,300)
I was targeting Buescher as a low-priced gem heading into the weekend, but then he had to go and qualify 18th. He has three straight Top 20s at the mile-and-a-half tracks, but his DFS value in those races came from his positive place differential. He will need to have one of his best runs of the year just to break even in the category this weekend.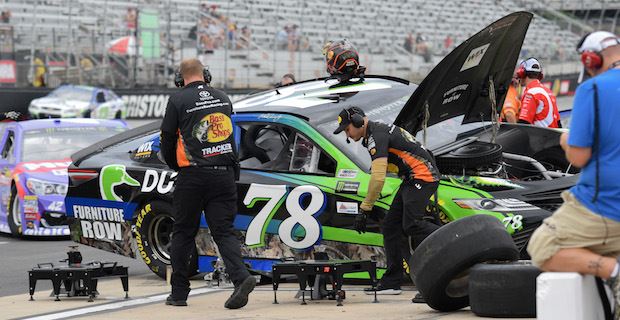 Favorite Cash Game Lineup
Martin Truex Jr. ($10,700)
Kyle Busch ($10,600)
Erik Jones ($8,400)
Ryan Newman ($7,500)
Ty Dillon ($6,900)
Michael McDowell ($5,800)
Favorite GPP Lineup
Martin Truex Jr. ($10,700)
Chase Elliott ($9,900)
Erik Jones ($8,400)
Kurt Busch ($8,100)
Trevor Bayne ($7,100)
Michael McDowell ($5,800)
Checkers-or-Wreckers GPP Lineup
Kevin Harvick ($10,100)
Brad Keselowski ($9,400)
Ryan Blaney ($8,700)
Kasey Kahne ($7,700)
Austin Dillon ($7,300)
A.J. Allmendinger ($6,500)